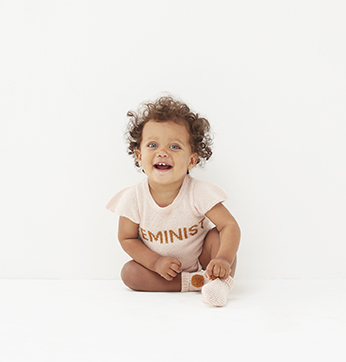 Œuf x Reformation
The very trendy californian brand for women, Reformation, will launch for Christmas a few new styles rethought by the lovely kids fashion brand Œuf NY.
Heart pockets on shorts and « Feminist » as a leitmotiv, written on the chest…. For a well being new generation.
Reformation is a revolutionary lifestyle brand created in 2009 by designer and former model Yael Aflalo. Based in Los Angeles, Reformation offers stylish eco-conscious garments, proving that fast fashion and sustainability can co-exist beautifully.
In a few years, the brand has won the « it-girls' » heart such as Rihanna, Bella Hadid, Sienna miller and Emilie Ratajowski, just to name a few.
Both brands share the idea of kindness with regard to their clients, with a responsible approach and the use of eco-friendly, sustainable materials.
Bloomers, Onesies, booties and other lovely pieces will be available exclusively online from November 13th, on their eshops.
From 44 to 146 dollars, at
https://www.oeufnyc.com/
https://www.thereformation.com/
Press Kidding contact@kidding.fr +33 1 53 34 68 10